It's now easier than ever to bring your family and friends to a NorthPaws game!
The Kamloops NorthPaws are excited to announce the addition of the Family Pack and the Birthday Bundle to our ticketing menu!
Bring the family out and save big when you purchase the Family Pack!
Leave the planning to us! Just bring your birthday child and some of their closest friends to Norbrock Stadium for a night with the NorthPaws celebrating YOUR birthday! With a great view of the game and room to run and play, the NorthPaws are excited to spend your special day with you!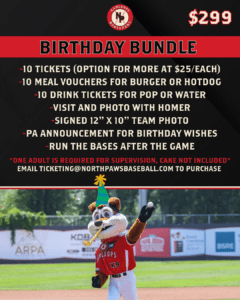 Both the Family Pack and the Birthday Bundle are available for every home game. The 2023 season schedule can be found here: https://www.northpawsbaseball.ca/2023-season-schedule/.
For more information, or to purchase a package, navigate to the top of the website and click "Tickets" in the menu, then select "Ticket Packages" in the dropdown. Complete the form at the bottom of the page and the NorthPaws will assist you!
See you at the stadium!