The Kamloops NorthPaws have strengthened their inaugural rotation with two freshman pitchers from the University of British Columbia Thunderbirds.
Vic Domingo and Sean Heppner are following very parallel paths through their baseball development.
They both grew up playing in the BC Premier Baseball League, they simultaneously attended the 2019 Tournament 12 showcase hosted by the Blue Jays Baseball Academy, they are dorm mates for their freshman season with the Thunderbirds, and they will both look to solidify the NorthPaws pitching staff this summer.
The NorthPaws have six Thunderbirds players signed for the 2021 season.
"UBC is a tremendous program that has set the standard for player development at the collegiate level in Canada," said head coach Cole Armstrong. "Having the opportunity to showcase Thunderbird players against players attending NCAA schools is something we're very excited about."
Vic Domingo
Domingo is the first player to play for the Thunderbirds after developing for the UBC Thunder youth program. Even though he received attention from other schools, he wanted to stay at home to play baseball and study.
"I love the culture, I love everything about UBC," Domingo said. "I've been playing here since I was 15 years old. This is my home, this is where I want to be so I don't see why I would go anywhere else."
The Vancouverite has had the opportunity to represent Canada on two occasions.
His South Vancouver represented Canada at the Little League World Series when he was 11 years old, and he made the Junior National Team in 2020, which was unfortunately cut short due to the COVID-19 pandemic after spring training in Florida.
Listed at 5'10", Domingo is the shortest pitcher on the NorthPaws roster, but his demeanour and ever-improving three-pitch repertoire – fastball, changeup and slurve – gives his coaches the confidence he will succeed in the West Coast League.
"He comes after you, he challenges you on the mound. He might be shorter in stature than some of these other guys, but he doesn't lack anything from the confidence piece and the presence on the mound," said Sammie Starr, assistant coach for both the Thunderbirds and the NorthPaws. "He's gritty, he's not scared of anybody and his stuff is good. He's got the stuff to back it up. When we put him out there, I would feel comfortable with him on the mound against almost anybody at this point."
Sean Heppner
Heppner is the most Canadian American on the NorthPaws roster. Though his identification indicates he is a resident of the United States, his resume would suggest he's from the Great White North.
Heppner grew up in Point Roberts, Wash., located on the southernmost point of the Tsawwassen Peninsula. A town where the only land access through to the rest of Washington is to drive through B.C.
"Because Point Roberts is isolated from the rest of Washington, I've basically done everything in Canada my whole life with school, baseball, all sports and all my friends are in Canada too," Heppner said. "It's definitely one of the most unique places in North America because it's basically Canada, but it's not."
He was the ace on the 2019 version of the North Delta Blue Jays, helping win a Baseball BC provincial title and earn a berth at nationals.
He throws what he calls a very traditional mix of pitches with a fastball, changeup and slider.
"Sean's a bit more of a later bloomer. He had a really successful senior year in the PBL and has made huge strides in the past eight months," Starr said. "This fall he just dominated our guys throughout our fall camp."
The next step for Heppner will be to test himself against West Coast League talent.
"When I heard about Kamloops and how it's part of the West Coast League, how it's such a competitive league and also that it's starting up as a new organization, I was really excited and really want to be a part of that first season with the team," he said.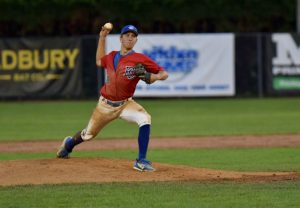 The Kamloops NorthPaws are an expansion West Coast League franchise bringing the highest calibre baseball Canada's Tournament Capital has ever seen. The West Coast League, founded in 2005, has 15 teams across Oregon, Washington, British Columbia and Alberta featuring some of the top collegiate players during a 54-game summer season. Find the NorthPaws online at www.northpawsbaseball.ca, @northpawsbaseball on Instagram and Facebook, or @northpawsbb on Twitter.